There are many ways to strength train from home. You may prefer the solitude that comes with exercising on your own, enjoy inviting a friend over for a partner-based workout, or decide to enlist a workout app to help you track and stick to a routine. You may have even considered splurging on a workout mirror, like Tonal, to level up your home workout with some smart technology. But if you want to upgrade your home gym without Shelling out thousands of dollars for a top-notch mirror, it's worth considering a smart workout camera like the Peloton Guide or Tempo Move.
What is a smart workout camera?
These cameras connect to your TV via HDMI port and provide much of the same features as a smart workout mirror, but in a smaller form and costing a couple hundred dollars (plus subscription) rather than thousands.
Instead of a full-length mirror installed on the wall or freestanding on the floor, these palm-sized devices connect to your TV to use it as a display for projecting on-screen instruction and workout metrics. Like mirrors, they can connect to a heart rate monitor to show your pulse in real time, and they offer some means of form feedback, either by using a camera to project your image as a side-by-side to the instructor on the TV screen or by using AI and on-screen directions to suggest form feedback as you move.
The Tempo Move and Peloton Guide are popular smart workout cameras that are great for weight-based home strength training workouts. In addition to tracking your progress as you get stronger, they offer instructor-led classes such as yoga, HIIT, and pilates. But how do their workout classes, instructors, and tracking capabilities compare? Here's how they stack up on the key features.
Exercise workout display and metric tracking
The Peloton Guide and Tempo Move both track your movements on-screen as you exercise, but with a few differences in the information they display.
The Move uses a camera and AI technology to analyze your movement, range of motion, and timing as you follow along with your virtual trainer, and flashes form feedback in words on the screen. Conversely, the Guide projects you exercising next to your instructor on your TV so you can emulate their form, similar to exercising with a workout mirror. Both methods of feedback are worthwhile, but we think the AI ​​instruction of the Move is better for ensuring you're getting the most out of your workouts.
The two devices also track your movement differently. As you exercise, the Move counts the number of reps completed during the workout's allotted time, while the Guide's movement tracker evaluates your effort based on elapsed time that it recorded you moving. For example, it will indicate that you exercised for a full minute, or the amount of time prompted by your instructor during a class. The Move's rep-based method is more in line with endurance-related goals, as performing a higher number of reps with a lower weight is key for strength endurance. The Guide's time-based method means you don't need to rush through your reps to hit a number goal, making it better for strength-based goals: You can opt to perform a lower number of slower reps with a greater weight load and still get full credit for your workout effort. Depending on your goals, you may find you prefer one method over the other, but both systems are easy to follow.
Finally, with regard to metrics, both the Guide and the Move give you the option to see calories burned, track your heart rate if you connect a monitor, and view a leaderboard if competing against virtual rivals is what motivates you.
Winner: Tempo Move, for its AI movement analysis
Get the Tempo Move for $495
Historical workout data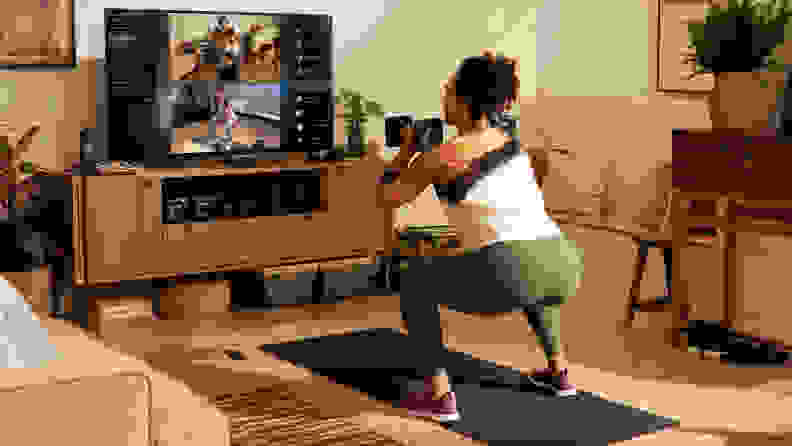 The Tempo Move and the Peloton Guide also both keep records of your workout history.
The Move records your total number of calories burned, as well as heart rate, amount of weight lifted, reps completed, and leaderboard position in each recorded session.
The Guide does all of this as well, but breaks down your movements by percentage, ie, it will show if you completed 80% of the allotted time performing bicep curls in class. This means you can better track strength gains in specific muscle groups as you progress in your workout plan. The Guide also shows you what muscle groups you've been working most frequently alongside the number of classes you've taken, so it's easy to build a well-rounded exercise program that includes full-body strength, cardio, and mobility. This helps highlight what areas you might want to ramp up to keep your workouts diverse while building balanced strength. With these extras, the Guide gets the win for its record keeping.
Winner: Peloton Guide
Get the Peloton Guide starting at $295
Class variety and instructors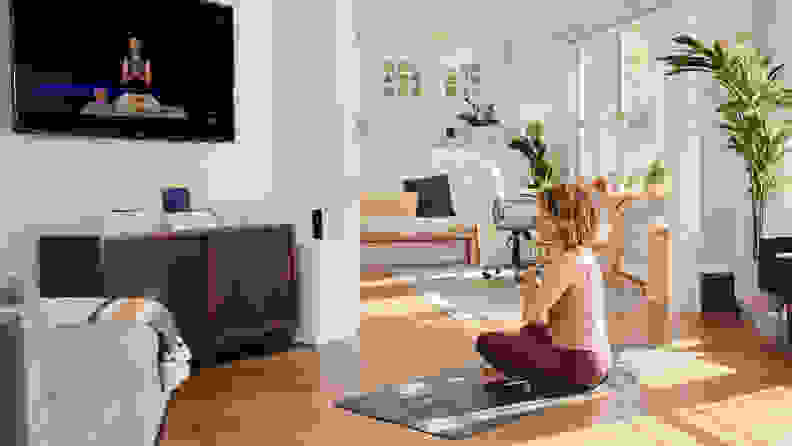 Both Peloton and Tempo offer thousands of pre-recorded and live workout classes, including strength, HIIT, yoga, and more. I equally enjoyed taking classes with both—the sessions were fun, challenging, and left my muscles feeling fatigued. Instructors for both brands are upbeat, motivating, and made me look forward to my next session.
If you're selecting a camera solely for the variety and quality of workouts offered, I don't think you can go wrong with either option.
Winner: It's a tie
Get the Tempo Move for $495
Get the Peloton Guide starting at $295
Affordability and value
For the most bang for your buck, it's as complicated as the pricing structures of both products.
The Tempo Move costs $495 plus a monthly $39 subscription fee and includes the "Core," the unit that casts Tempo's AI technology-powered workouts to your TV via your phone, plus two 7.5-pound dumbbells, four 1.25-pound weight plates, four 2.5-pound plates, four 5-pound plates, four weight collars, and a cabinet to neatly store everything. This works out to $1,013 for the first year.
Peloton's Guide Strength Starter Package costs $545 plus a monthly fee of $24 for new Peloton gear owners, and includes the Guide, a workout mat, and your choice of three sets of Peloton dumbbells (available in 5 to 30 pounds). This works out to $833 for the first year, but you don't get storage with the Tempo's system and Peloton's included weights aren't as versatile as the interchangeable plate-loaded dumbbells that come with the Move. The Peloton Guide Power Package starts at $935 and includes the Guide, a workout mat, and your choice of six sets of Rogue dumbbells (available in 5 to 50 pounds)—the price can go up to $1,270, based on the size of weights you choose. With the cheapest Power Package, you're looking at a first year cost of $1,223. What's more, if you already own your own exercise equipment—like a rack of free weights or a set of adjustable dumbbells—you can buy just the Peloton Guide base unit for $295 plus the $24 membership fee; there's no option to purchase Tempo's base unit as a standalone item. Further, if you already own a Peloton bike or treadmill, the membership fee for the Guide is lumped into the $39 per month that you're already paying for your other gear.
Winner: It's probably a wash, unless you're already on Team Peloton
Get the Tempo Move for $495
Get the Peloton Guide starting at $295
And the winner is…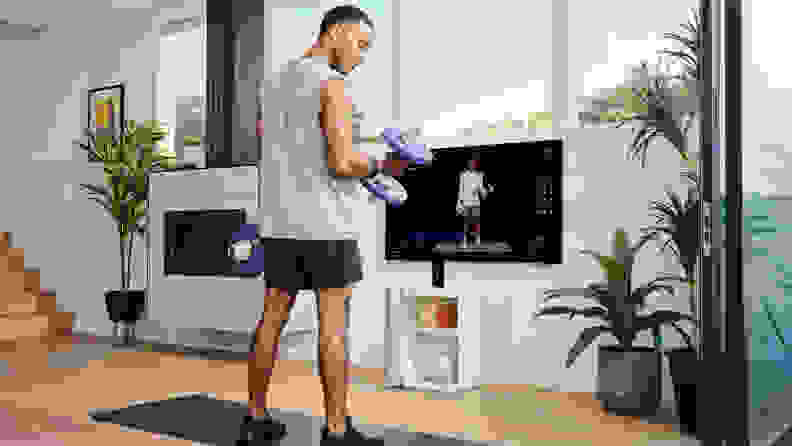 It's a close call. Both feature a variety of classes, motivating instructors, and the ability to track exercise metrics like heart rate while logging your workout history. They make exercising fun and will keep you motivated as you progress towards your fitness goals.
You may prefer the Guide if you already own a Peloton Bike or Tread, or if you have a home gym full of exercise gear and you want to buy the Guide solo for its workout instruction and tracking.
But if you're starting from scratch with connected workout gear and like the idea of ​​a smart workout camera (and the lower cost as compared to a workout mirror), our advice is to pick the Tempo Move. Its AI-powered form feedback, more versatile weight selection, and thoughtful integrated storage give it the edge.
Get the Tempo Move for $495
Get the Peloton Guide starting at $295
The product experts at Reviewed have all your shopping needs covered. Follow Reviewed on Facebook, Twitter, Instagram, TikTok, and Flipboard for the latest deals, product reviews, and more. Prices were accurate at the time this article was published but may change over time.
Prices were accurate at the time this article was published but may change over time.
.