Anyone who goes to the theater lives for those special moments on a stage that take your breath away. I live for those moments that take place off-stage … in the audience.
I've attended close to 3,000 plays and musicals since I started covering Colorado theater as my job back in 2001. In that time, I've been challenged, provoked, angered, humbled, exposed, moved to tears, swept onto my feet and lifted 5 feet off the ground.
But the most indelible moments are those that take place away from the stage – those rare moments when you can see that a life has somehow been changed by the transformative power of live theater.
It happened in 2009 at the former Crossroads Theater in Five Points after watching a tough play about a Black woman, born in 1912 in rural Arkansas, who had been sexually abused by her father throughout her childhood – and no one did anything to stop it.
At an audience talkback following the performance, an elderly woman rose to speak softly through her tears.
"For the first time, I know how my daughters feel," this woman said simply, her head bowed to a hushed crowd. In that moment, we all knew her story, and what this story on the stage had roused in her. One could only hope this was the first step toward a reconciliation decades in the making – one made possible by the play we had just seen together.
It happened again in 2011 when I attended a production of "Next to Normal" at a dinner theater in Fort Collins. This is a groundbreaking, Pulitzer Prize-winning musical that explores the devastating long-term impact of unresolved grievance on one suburban family after the death of an infant son.
I had seen "Next to Normal" performed on Broadway, and I immediately recognized that this remarkable story was rewriting all the rules of musical theater. But I didn't experience the full impact of this emotional powder keg until I saw it years later, of all places, at a dinner theater in Fort Collins.
Staging a story about depression and suicide at a dinner theater sounds like commercial…. well, suicide. At a noisy dinner theater, you are often seated with strangers at picnic-style tables. You power through an hour of small talk and are served apple pie a la mode by the actors performing in the show. Not an ideal environment for quiet contemplation and catharsis.
On this night, I was put at a table with a couple who were already seated opposite each other. They were polite but not particularly chatty, so I kept to myself. After the opening song, which makes it plain that the main character is a housewife in the throats of an obsessive compulsive disorder, the woman sitting beside me already was in tears. She quietly stood up, moved to her husband's side of the table and wordlessly collapsed into his protective embrace. There they stayed, wrapped like a cocoon, for the rest of the ride.
Any story about any sensitive issue is bound to affect audiences in direct proportion to their personal experience, and it was clear that the subject matter was exactly why this couple had sought out this musical – to help them fight through whatever it was that they were fighting through.
It happened again just a few weeks ago, when I attended a performance of the Broadway musical "Kinky Boots" at the Arvada Center for the Arts and Humanities.
"Kinky Boots" is based on the true story of a strait-laced young Brit who reluctantly inherits his father's dying shoe factory – one that is saved only after he forms an unlikely partnership with a tough drag queen named Lola.
Like most people, I have a complicated relationship with my hometown. I grew up in Arvada. I know its people. I know its comfort zone. "Kinky Boots" is not its comfort zone.
I am grateful for the strong moral foundation that was laid for me by my parents and church. I knew right from wrong. At the same time, I grew up in an Arvada where bullying and fights were a daily reality and that racist jokes were told as commonly as the Pledge of Allegiance. Never to a Black person's face, of course. Probably because, in my first 14 years of life, I only knew one Black kid in Arvada – and he was adopted.
It was another time. But not all that long ago.
When I took my seat for "Kinky Boots," I knew the couple next to me. Not their names. But I KNEW them. I recognized the look. The attitude. The beliefs. They were everything I have been trying to unlearn for 30 years.
One pointed overheard comment about the subject of the show, and I had them all figured out. They were like 482 other couples I sat next to at my uncle's bar in the old Arvada Plaza. These were the kind of people who say what they say right out loud because, hey, this is Arvada. Where it's still safe to say…exactly the wrong thing. Right out loud.
The other thing I knew is that they weren't ready for this show. Not for a big British musical that welcomes difference with big, accepting arms lined with spikes, sparkles and gummy bracelets.
But not long after the show began, I realized I did not know them at all. I did not know their names, their stories or their struggles. I did not know what it was that brought them there that night or what they wanted – or perhaps needed – to get out of it.
Because from the moment the drag queen Lola first entered the stage, tears started streaming down the woman's face. As the show delivered its message of tolerance and courage with a stiletto pounded by a sledgehammer, her tears just started flowing. Every song, every anthemic line of dialogue was connecting with whatever life journey that woman is on right now … and the tears just kept flowing. She was wiping away tears like she was watering a garden. All along, the man – her husband, I presume – draped one arm safely over her shoulder while clasping her other hand with a grip that never broke except to applaud.
Clearly this show was speaking to something very real in their lives. At intermission, the curious journalist and humanoid in me wanted to just say hello, ask them their story and offer some support. But I also felt something sacred was happening, and many of us believe a theater is a church, so best to let them be in the protected space they were in. Because that, too, is the Arvada – or at least the Arvada Center – I know: A safe, welcoming place for enlightenment, entertainment and inclusion.
In the second act, the woman's tears turned to bliss. When the story climaxes and the crowd is inevitably brought to their feet, these two quintessential representations of everything I thought I knew the Arvada of my youth to be stood and clapped along. Whatever their turmoil had been was now replaced by abject joy.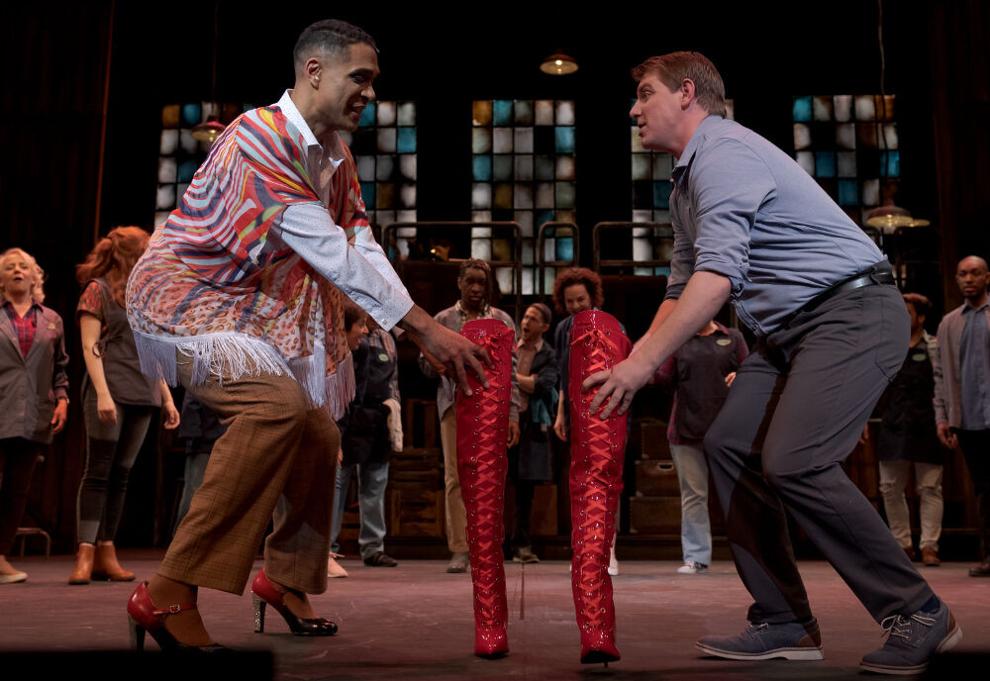 In that moment, I recalled something pop superstar Cyndi Lauper, who wrote the music for "Kinky Boots," told me in an interview back in 2014: "An amazing show with a great heart will lift you up," she said simply. It put this couple on the ceiling.
With all due respect to the sublime actors who have danced atop my heart over the years, these truly are the moments I live for: To see the power of live theater transform the hearts and minds of an audience.
Here's something else Lauper told me in that 2014 interview:
"Unfortunately, we still have bias and we still have bullying, and that is sad because I would have thought that by now people would have evolved. Because we live in the digital age, the world has gotten smaller. You'd think that would have made us more open and accepting. If we all could just accept each other for who we are, the world would be a beautiful place. And you know what? That's the message of 'Kinky Boots.'"
"Kinky Boots" plays at the Arvada Center through April 24. 720-898-7200 orarvadacenter.org
.