It's 6:55, five minutes before doors open for Ludacris' show at the Kalamazoo State Theater on April 9, 2022 as a part of WMU Campus Activities Board's concert series.
Western Michigan University, Kalamazoo College and Kalamazoo Valley Community College (KVCC) students, faculty and alumni are waiting for doors to open, bubbling with nervous excitement.
Marcell Whitfield and Koreem Harris, a WMU senior and second-year grad student, decided to attend after Harris was convinced by one of her co-workers.
"We needed something to do and thought it would be fun," Whitfield said. "It's a $20 concert and who doesn't want to relive their childhood memories with Ludacris."
While the two were excited to "hear the classics from back in the day," in Harris' words, they felt another up-and-coming artist might have been a better selection for the show.
"I'm not mad at the decision because who doesn't like Ludacris, but there are more popular, shall I say 'relevant' artists at the moment who deserve to have some of their music displayed," Whitfield explained. "He's already kind of had his time."
Kalamazoo State Theater staff walk down the line of concert goers asking for IDs and vaccine status as attendees move toward the entrance. The concert, WMU Campus Activities Board's first live concert since Lil Yachty in 2019, was about to start.
CAB's Vice-President, Athena Osbourne, was involved with CAB in 2019 but didn't attend the Lil Yachty concert.
"It's our first big show since Lil Yachty and our executive board is entirely new since then," she said. "We have two members who were on executive board then. It's a really new process and we're looking forward to more."
CAB released a survey in December 2021 asking students what artists they would like to see perform. Among the names were Ty Dolla $ign, Quinn XCII, Tori Kelly and Flo Milli.
"It's what students want to see, we work with a certain agency to see what artists are looking to tour at college campuses at the moment so we kind of make a variety," she explained. "We ask students more like a pop local artist to some hip hop to country even. Anything like that so whatever the students vote on we'll bring."
This wasn't Ludacris' first time flying from Atlanta to Kalamazoo. Chris Sligh, Director of the Office of Student Engagement, saw Ludacris when he performed at Miller Auditorium in 2011.
"It's great to see that he's stayed so relevant for so long because his first album was like early 2000s," Sligh said. "It's pretty neat to see that students still like him whether they know him from the movies or music or both."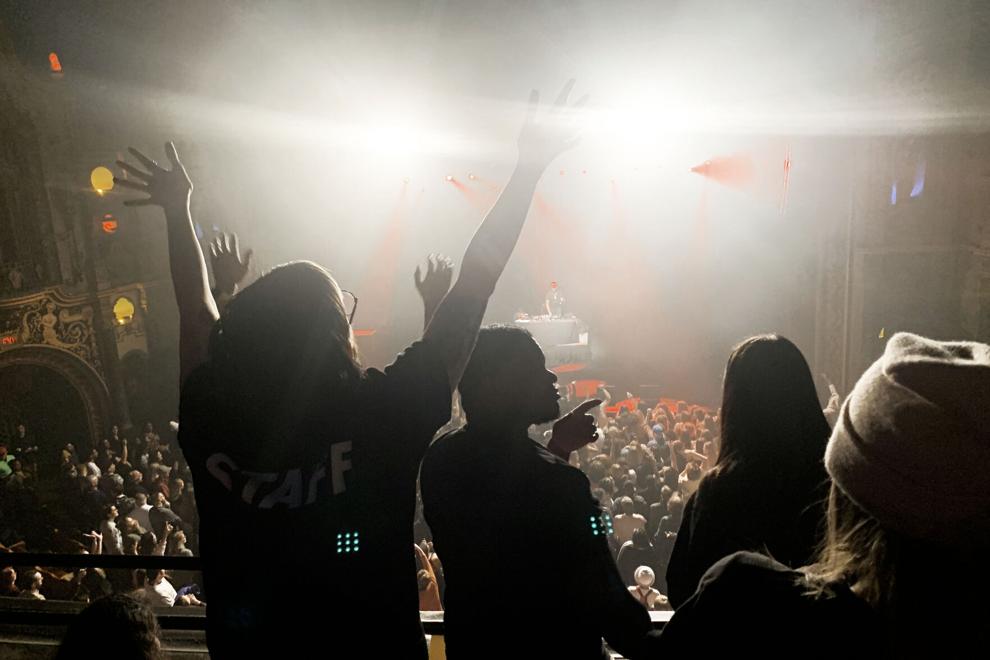 Sligh had been at the Kalamazoo State Theater with CAB staff most of the day for another event, "Redefine269." Both that and the Ludacris concert were a collaborative effort with Kalamazoo College and KVCC.
"It's really neat to show that Kalamazoo really is a college town," Sligh explained. "We hope we can keep that momentum going for future years, where the three colleges come together and do some programming together."
At 9 pm Ludacris ran out of the wings to screams from the crowd and jumped immediately into a flow before pausing his set list to engage with the crowd.
"Ludacris must be a world-wide name because these are college students and my first album came out in the year 2000," Ludacris said to the crowd.
WMed student Arlene Ho thought Ludacris was surprised by how familiar the audience was with his set.
"I think even he was a little bit unexpectedly surprised about how much people knew about his other music, not just stuff he was featured on," she said after the show.
Ludacris asked the audience how many of them had ever been to 'a real rap concert' before saying "I'm 'a tell y'all it's a real rap concert." He then told opposite sides of the crowd to throw their middle fingers in the air and point them at each other.
"The energy level is at a 10 and that's where it needs to stay," Ludacris said.
The majority of Ludacris' set consisted of his chart-topping features and some classics from his earliest albums. Among the features were snippets of Usher's "Yeah!" featuring Lil John & Ludacris (2004), Fergie's "Glamorous" featuring Ludacris (2006) and Justin Beiber's "Baby" featuring Ludacris (2010).
"I'm talking about the independent women in Michigan that would look a man dead in his face and say if you ain't got no money…" Ludacris said as a segway into the opening of "Glamorous."
The three-time Grammy winner didn't shy away from performing his own tracks though, at the start of his set he took audience members back to the past with "What's Your Fantasy" off his 1999 album, Incognegro.
Following a request from the audience he performed "My chick Bad" featuring Nicki Minaj off his 2010 album Battle of the Sexes.
"It's a beautiful thing when you have so many hit songs that you forget and need your DJ to remind you of all the Ludacris hit songs," Ludacris said.
Ludacris' engagement with fans was a high point for the show.
"There was a little bit of fear in the back of my mind because I've seen many concerts and I've seen not very good performers and Ludacris was fantastic," Alex Centala said.
A self-proclaimed Ludacris fan, Alex was hoping he would play "Get Back." Unfortunately, the track didn't make it onto Saturday night's setlist.
"That's okay. He has so many songs, like I was happy with it," Alex Centala said.
WMU grad student Karolina Jones was surprised by the longevity some of the tracks performed seemed to have.
"I feel like there were a lot of undergrads here too and they knew a lot of the lyrics," she said. "I feel like I'm 10 years older than a lot of those kids that are going to school now but they still knew the lyrics and that was really cool; I think that's really important to bring that to the people."
Ho expressed her desire that events like this would be marketed to more than just undergraduate students in the future.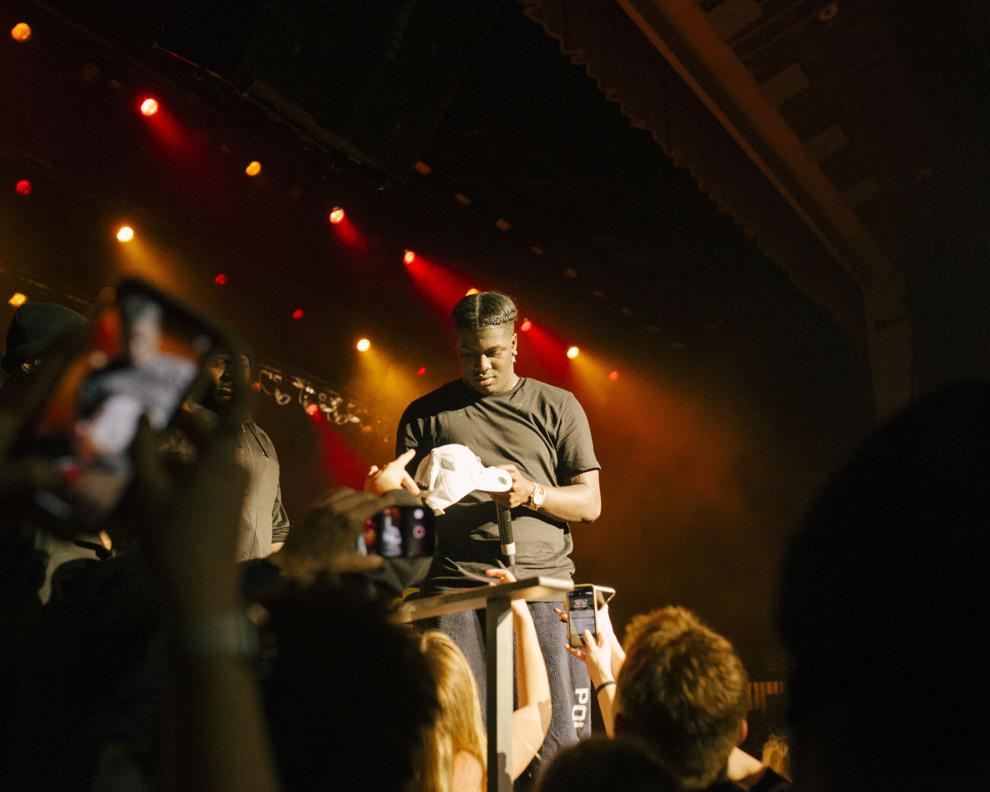 "The only reason why we knew was because I play for the orchestra and saw a sign on the WMU (main) campus," she explained. "That's something I wish was more advertised to WMed students because we're considered WMU students as well but none of our students knew that he was performing. We're a little bit more of that age range where we would've been excited to go and we only found out yesterday."
As for future artists, she believes tides are shifting toward a focus on hip hop.
"I think with the Superbowl Halftime show this past year, that has also created maybe not a wave but kind of that renewed 'oh there's this music that we used to listen to all the time and that still exists,'" she said. "There's still artists that put out a lot of great music and Eminem's from Michigan so why not, let's bring Eminem to WMU."
Colleen McInery, a collaborator representing Kalamazoo College's Office of Student Activities emphasized the need to gauge student input when planning future events.
"Every couple years the vibe shifts for the students coming into the school and I think it'll just be important for us to take a survey of student input every time we want to do something like this to kind of get a good pulse for what we're planning on," Mcinery said.
.