JOHNS CREEK, Ga. — Artists and art connoisseurs celebrated works by adult students and members of the Johns Creek Arts Center April 8 at the center's first in-person reception since the pandemic.
The reception marked the closing of the largest show the Arts Center has presented in its history, featuring 82 pieces.
Artists and visitors mingled over hors d'oeuvres and viewed works displayed all over the Arts Center before awards were presented to first through third place winners.
Annette Alvarez took home the blue ribbon among adult students in drawing or painting for her colored pencil drawing of a raven, which she made to give to her husband as a Christmas present. Before taking home the top prize of the category, Alvarez had only been drawing for about a year and a half.
She said she never expected to win.
"I was very excited, I told my daughter and husband right away," Alvarez said. "We're very excited that I got to win, I've never won anything before."
Alvarez launched into art when her mother got sick in 2019. She said she needed something to distract herself for a couple hours during the day, and then she found the Arts Center. But instead of just passing the time, she's found a new passion.
Julie Skadowski, another blue-ribbon winner, has been making art at the Johns Creek Arts Center since 2008. Her piece, "Drei Stule" which translates to "three chairs" in German, is made up of three sculptures of chairs made from clay .
Skadowski said she's been working in the medium for about 10 years.
But Friday was not her first time claiming top prize at an Arts Center showcase. She's won first place two separate times, and a second-place ribbon on a third occasion.
For her winning work this year, Skadowski said she drew her inspiration from a friend's kitchen.
"She had some metal chairs that were similar, and I saw them hanging on the wall and I fell in love with them," Skadowski said. "And I was like, 'you know, I can make that.'"
For long-time woodworker Jim Rowland, first prize winner in the member exhibition, inspiration for his piece, "A Bowl of Pear," came from the wood he used to make it.
He found fallen branches of a Bradford pear tree and saw an interesting grain structure, so he took the wood back to his workshop.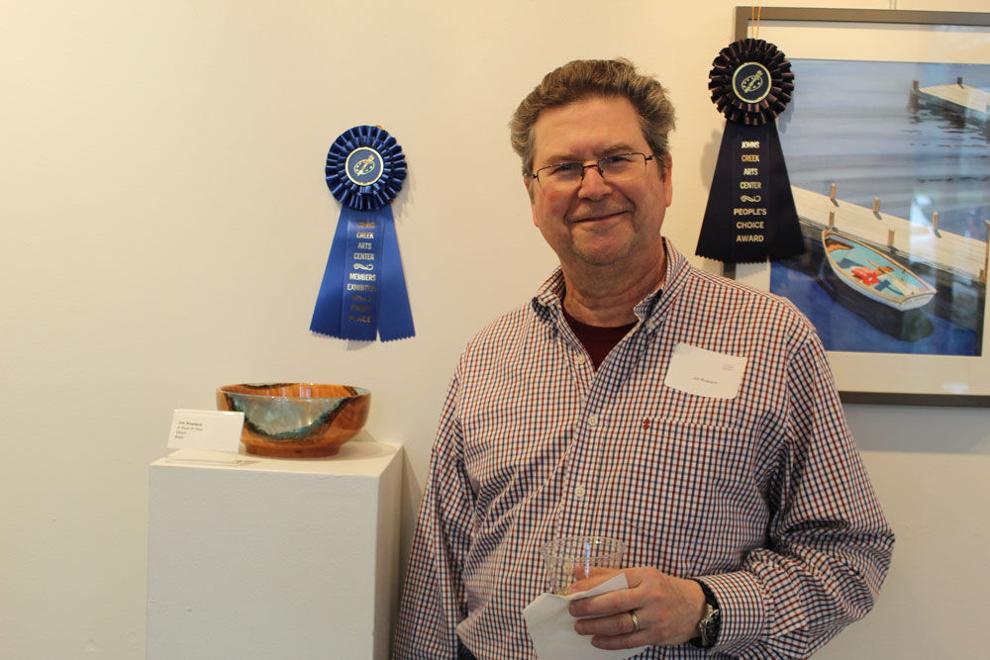 "It's the wood itself that kind of tells me what shape it wants to be," Rowland said. "So, I just work with it until I bring out the best."
The resultant bowl is a hybrid piece, Rowland said, featuring both the Bradford pear wood and an epoxy resin.
Although Rowland's been woodworking for years, this was his first time winning for a piece at an art show.
He recently retired and has since been able to dedicate more time to his passion.
During the reception, Executive Director Stephanie Donaldson handed out awards to the winning artists and allowed them to showcase and explain their works.
Johns Creek Arts Center will host Mother's Day Market
In addition to the individual artists, the Arts Center itself was celebrated as a place where community members come together to make something beautiful.
"When I came here, I was going through a rough spot and you (Donaldson) were so welcoming in showing everything, all the artwork, all the possibilities," Alvarez said. "And all the staff here, all the teachers, everybody is such a nice community, so thank you for being there."
.