Members of Heritage Quilters reflected on their shared love of quilting and the sense of community generated by their involvement with the group at a special event on Saturday celebrating 20 years of quilts and quilts.
The event was highlighted by a display of quilts that filled the walls of the Warren County Memorial Library's Community Meeting Room and reflected the creativity and artistic growth of members.
Organized in 2001, Heritage Quilters is recognized not only for the talents of its members, but also as a philanthropic organization providing scholarships, funding summer excursions, maintaining the historic Aaron Hendricks House in Warrenton and organizing curriculum workshops for students.
Saturday's event allowed the group to celebrate its current members and honor members who have passed away over the past few years: Louise Spruill, Mary Terry, Portia Hawes and Iris Olinga.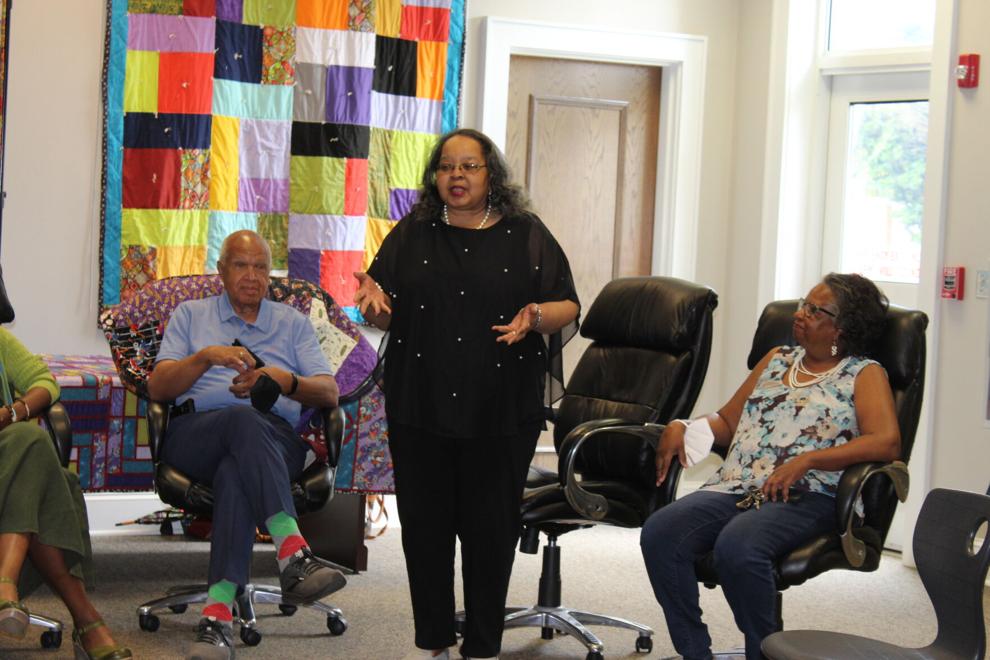 The community meeting room was filled with many residents of the local community and several members of the African American Quilt Circle in Durham, which inspired the creation of the Heritage Quilters.
Members of Heritage Quilters reflected on how they became interested in quilting.
Among them was Gail Richardson, who wanted to learn to sew after moving to Warren County. She took a friend's advice to try quilting and took a class.
"When I contacted Heritage Quilters it opened up a whole new world to me," she said.
Margaret Woods Bullock's background was in textiles and clothing. After speaking with Jereann King Johnson, she discovered a love for quilting and made her first quilt using scraps of fabric from dresses she had made.
Leo Kelly, Jr., retired dean of adult basic education at Vance-Granville Community College, recalled offering quilting classes at the community college. He took a class and made several quilt squares, which he put together during a snowfall. Last year alone, Kelly made eight quilts.
Sterling Cheston, Jr. joined Heritage Quilters as part of their Stitching Life Stories project run in conjunction with the Inspire Creative Writing workshops hosted by Jane Ball-Groom.
Group members also described examples of their quilts which they included in the Heritage Quilters exhibit. These included several examples using the Turning Twenty pattern. Members were required to include a "challenge fabric" in their quilts when selecting colors and fabrics for their designs.
Members also showcased examples of other quilts they have made, including those from the Stitching Life Stories project.
These quilts conveyed a complex range of moods. Belinda Mack Alston recalled fond memories of her grandfather opening a record store in Florida. She created a quilt depicting a beach scene that, at first glance, seemed to reflect the joy of a family trip to Florida. However, Alston noted that the surf had pushed her and her father away from shore. His father did not survive.
In contrast, Sterling Cheston, Jr. described his quilt depicting the old Warren County Training School with a bicycle on the school's campus. He described going to school on Saturdays with his father, a masonry and industrial arts teacher in high school. Sometimes Cheston and his brothers helped their father with his work, and other times they rode bicycles.
Cathy Alston-Kearney shed light on thoughtful quilts, including a scene evoking memories of his mother's bedroom and the perfume bottles and other personal items he kept on his dresser.
She also included the Tree of Life Memorial Quilt honoring her family members with a reference to the Tree of Life depicted in the Book of Revelation in the Bible. The quilt features a large tree with a number of symbolic elements to honor living family members and those who have passed away.
Other topics reflected in the quilts on display included life experiences, beloved characters, and the African American experience.
Members of Heritage Quilters regard the first 20 years of the group as a significant part of their journey as individuals and as a quilting community. They look forward to many years of creativity and community involvement with plans for new opportunities in the years to come, including possible online quilting classes.
For more information about Heritage Quilters, visit the website, heritagequilters.net.
.