Although he's only been living in the area for a few years, having moved to Johnson City in 2020 to be closer to his family, James Griffin is doing what he can to immerse himself in the local arts scene, with shows scheduled at two local galleries in the coming month.
Griffin has always loved art and knew he wanted to make it his life. After graduating from the Pratt Institute in New York, Griffin found freelance work illustrating paperback covers and said his time in London helped him "get a bigger picture of the world of art." 'art and history'. He describes his style as straddling a "thin line between realism and abstraction" and depicts a wide range of scenes in his works – everything from cityscapes to nature.
He has also published a book, which contains short essays on life and work from a newsletter he started ten years ago and from his works. It is called "The Road to Home, Art and Essays of James Griffin".
His art is displayed in four galleries and two museums, and he will have two exhibitions in Johnson City in July and September. His first show will be at Robins on Roan, 1305 N. Roan St., and will open July 1 with an opening reception from 4-6 p.m. He will have another exhibition at the recently opened Atelier 133 gallery at 133 N. Commerce St., which will run from September 3-30. Griffin will exhibit dozens of original works, mostly from northeast Tennessee, and said "it's a great honor to show my work in these two places."
A book signing event will also take place at both shows, and copies will be available.
Recently, Griffin spoke with the press via email about his art style, how he became interested in art, and his artistic process.
What brought you to art?
They say that art is a passion, and my passion for it started at a young age. I looked at all the art I could find, Saturday Evening Post covers, art books, even Sears catalogs. When we moved to London, I was in the right place and at the right age to soak up 2,000 years of art history. It was also a time for radical new art, which I also embraced. I learned so much about painting by looking at the original works of art hanging on the walls of the Tate and British museums. I had a few jobs after college, but my passion for art couldn't be stopped.
How would you describe your artistic style?
I learned early on how to make things look real in drawings and paintings. It fit well with my illustration work, where I painted covers for romance, mystery, and other novels. I have always experimented with abstraction and wanted to find a way to combine realism with abstract painting.
Through decades of experimentation, I've arrived at a style that works for me. It straddles the thin line between realism and abstraction. The canvases are painted with a wild energy that somehow merges into an image understandable from a distance. Up close, the images appear like a feast of completely abstract scratches and brushstrokes. This tension between the real and the emotional is what gives power to the images.
Your topic varies a bit. What is your favorite thing or scene to paint?
It is true that I vary a lot of subject. I love working on landscapes and the hills and rivers of Tennessee were a major inspiration for this. I also like to paint people. My wife, Debbie, has been a constant role model for me and my daughter's family. I have to feel some kind of resonance with the subject matter, whatever it is, but how I paint it is just as important as what I paint. In a way, the brushstrokes themselves become the subject of my work.
Going through your work, it certainly seems like you enjoy using color, especially yellows. Is it a conscious decision or just a by-product of the kinds of scenes and images you enjoy painting?
That's a great question! I have the impression that no color is alone, in the world or in a painting. They all exist in relation to each other. What I work for is movement of color that transports the eye in and around the paint. I don't have a favorite color. They are all delicious!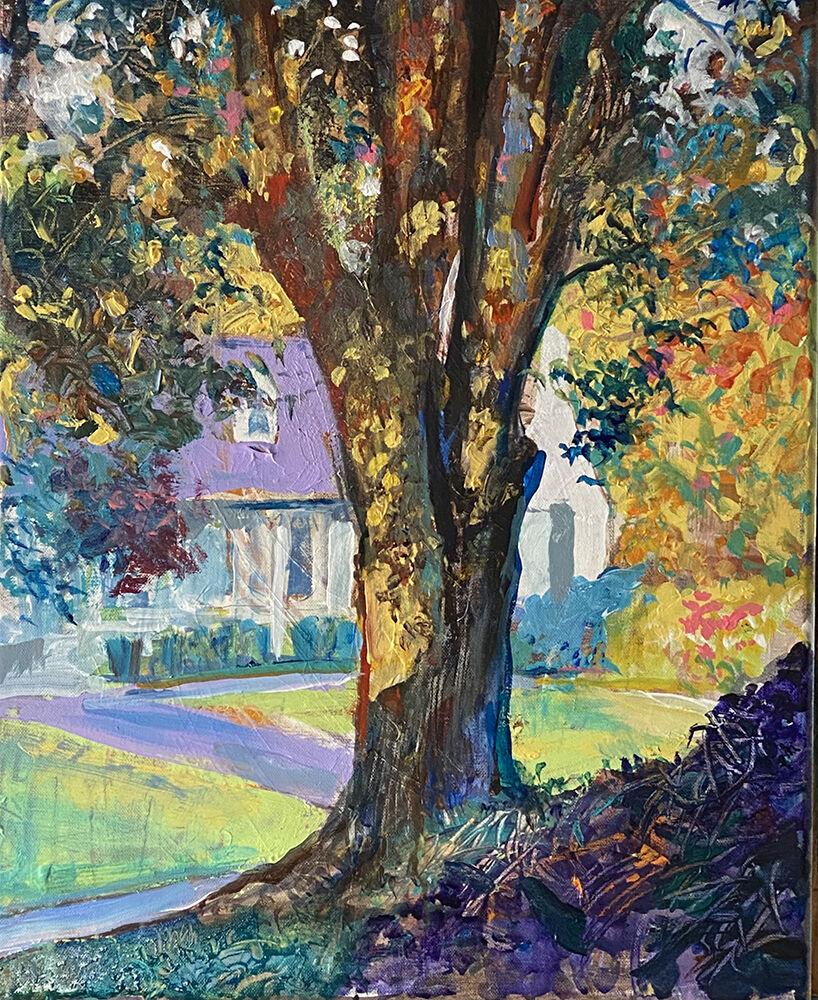 Do you have a favorite work you've done? If so, tell me a bit about the creative process.
I'm sure you've heard artists say that their favorite piece is the one they're working on. It's true for me too. For example, I'm almost done with a painting of an area in Sycamore Shoals, looking across the river. It has such interesting lighting, the line of scruffy trees at the water's edge, the sun reflecting off patches of fast moving water, it's intoxicating with possibilities.
On the site, I draw a small drawing in pen and ink and take pictures with my phone. Then in my studio I start painting in a very abstract way that has only a very slight resemblance to the scene but has the energy and excitement that I felt in front of it. I have to resist the tendency towards realism, to keep the energy alive as the image begins to take shape on the canvas.
You can find more of his work on his website, www.jamesgriffinstudio.com.
.