"A journey of a thousand miles begins with a single step." So goes the Chinese proverb.
Photographer Chris Clark returned to his Fenwick Island stomping ground last week after four years of traveling across the country, aiming to encourage his Sussex County friends to start seeing their home and neighbors in a new day.
Clark, a former local business owner, Fenwick Island City Council member and Coastal Point photographer, gathered newcomers to the area, as well as longtime residents, at the Fenwick Shores Hotel for a supposed afternoon be stimulating, inspiring and informative.
He focused on connection – between people, and between the earth and the creatures that inhabit it, and their responsibility to care for it and each other.
To that end, he introduced Native American storyteller Ragghi Rain, who regaled those present with several tales. Messages from Rain's stories intertwined with those from representatives of Delaware State Parks and the Delaware Center for the Inland Bays during the 90-minute program.
Against the backdrop of Clark's photographs of local landmarks and wildlife, several of which were donated to the Center for the Inland Bays last week, Rain's stories repeated the mantra that "all things are connected."
Clark picked up on this thread to outline to attendees several issues he believes threaten local resources. Using a photograph of snow geese on a foggy day on "what was once Seal Island" in Little Assawoman Bay, which he says is now all but gone, he attributed this, in part, to overfeeding by snow geese – who, displaced from their natural feeding grounds by development and agriculture, have eaten grasses on the island, destroying erosion-preventing plants while feeding.
"Climate and high water also contributed to this disappearance," Clark said.
He praised programs such as the one the Center for the Inland Bays has undertaken to restore oysters to the bays.
"We need to make sure we support each other and stay connected, so the people who help make decisions know what we believe in," he said.
Lisa Swanger, director of outreach and education for the Center for the Inland Bays, one of 28 estuarine programs in the United States, told the group about the organization's mission to preserve, protect and restore the bays. interiors and their watershed.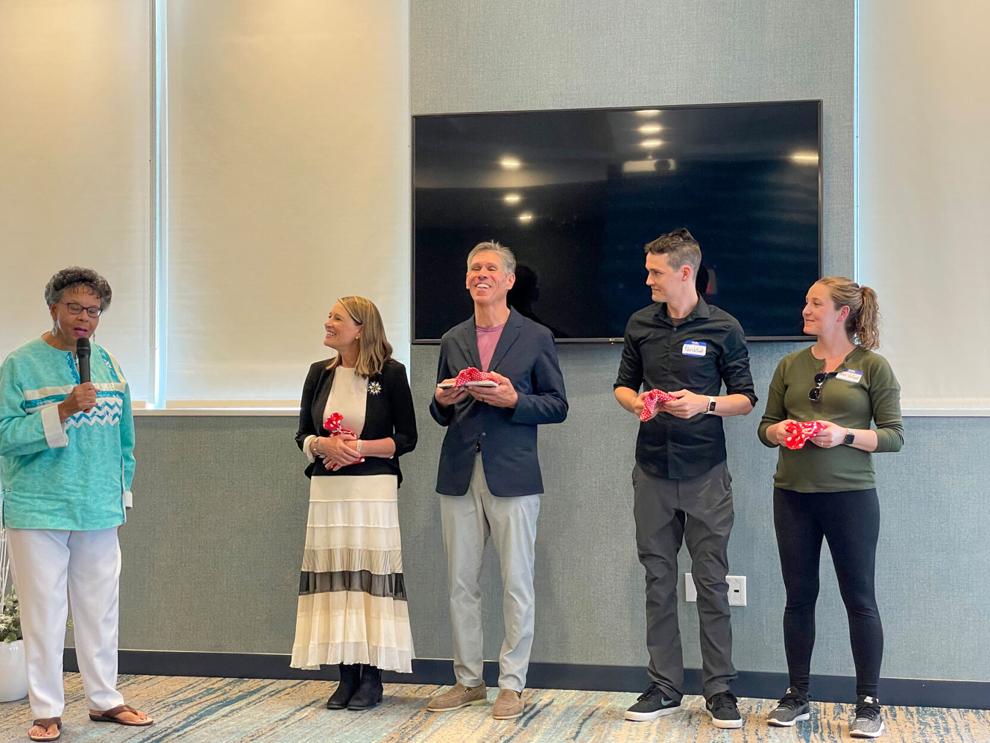 "What we do in one area of ​​our watershed can impact everything and everyone in the other parts of that watershed," Swanger said. The local watershed, she said, ranges from "maritime forests to saltwater marshes to freshwater wetlands and grasslands and everything in between."
The value provided by the estuary – which includes Little Assawoman, Rehoboth and Indian River bays – not only includes habitat for a wide range of species, but also "nurseries" for many marine animals.
Estuaries, located between the land and the ocean, "serve as a very valuable buffer", filtering pollutants, absorbing flood waters and helping to dissipate storm surges from the ocean. "Even if you don't live by the water…we're all going to be affected" by what's happening in the estuary, Swanger said.
She listed some of the ways the estuary influences life in the region, from its economic value as a host of agriculture to the tourism industry that drives the coastal economy.
"We all depend on a healthy and functioning system to support ourselves and our families," she said. "And we can't forget the cultural and social values ​​that the estuarine system provides," Swanger added, including its impact on the well-being of the humans who inhabit it and the "sense of place, perhaps even a sense of self", it offers them by allowing them to identify with the beauty it contains.
"It's no wonder people are moving here; people stay to live here," she said. "Unfortunately, with this growth comes negative impacts on what we love and need to survive."
"The main threats to the bays and surrounding areas," Swanger said, are excess nutrients, such as phosphorus and nitrogen, polluting the waters, as well as habitat loss and climate change, with associated sea level rise.
"Those are the big three," she said, adding that while there has been progress in recent years in mitigating these threats, "there is still a lot of work to be done."
Another Center for the Inland Bays representative, program director Bob Collins, explained many of the organization's projects, particularly those involving "living shorelines" – restoring natural areas along shorelines that benefit wildlife. , as alternatives to bulkheads and riprap.
Clark reflected on how participating in such projects can also benefit humans.
"When I seek to bring life and not destroy it, I feel better," he said. "I feel healthier and I feel blessed when I can honor the sanctity of Mother Nature."
He urged those present not to back down from confrontation, but to listen to others when it comes to preserving the planet.
.