Northern Virginia's own Metropolitan Jazz Orchestra welcomes Grammy Award-winning composer Maria Schneider
Jazz lovers know that The Center for the Arts at George Mason University is one of the best venues in our area to enjoy a great night of music, as the Metropolitan Jazz Orchestra delivers unforgettable performances whenever it takes to the stage.
That's certainly going to be the case on April 16, when the orchestra, which was founded by artistic director and saxophone virtuoso Jim Carroll, welcomes seven-time Grammy Award-winning composer Maria Schneider to conduct the night's performance.
Carroll calls Schneider's music "programmatic," meaning a type of instrumental art music that attempts to render an extra-musical narrative musically. For instance, in his composition of the song, "Hang Gliding," he noted you feel as if you're up in the air.
"Maria is a person of excellence and pounds it out, and lives in the world of nature, and teaches us all that we're all part of something together; we're a part of this planet and part of something bigger," Carroll said. "At this time, when jazz music has been beaten down and riding the back of the bus, we need Maria more than ever. When the system beats me down, Maria's music has been there to lift me up."
The performance will open with "We Love Being Here with You," featuring songstress Darden Purcell, followed by a selection of Schneider's original music, including an instrumental excerpt from "Winter Morning Walks," which took home the Best Classical Contemporary Composition. Grammy in 2013.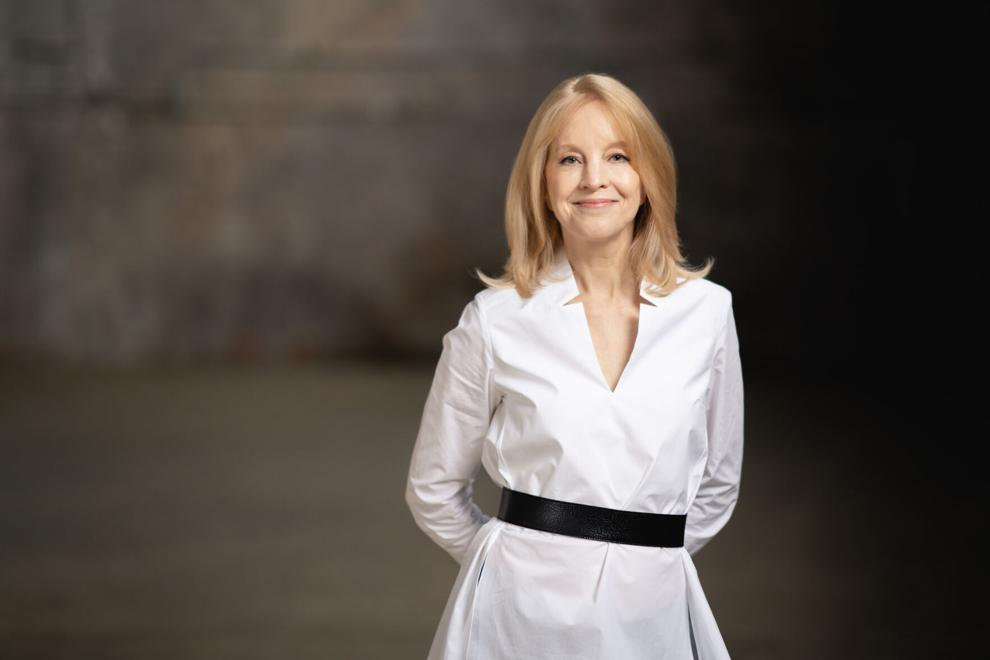 Among her work being performed will be "Wyrgly," "Gumba Blue," "Braided Together" and "Three Romances."
For the second half of the concert, the Mason Jazz Ensemble will join in on the program, performing "Dance You Monster to My Soft Song," an original composition by Schneider that she will also conduct. The piece features trumpet soloists Brice Bach and Mason trumpet professor Graham Breedlove, as well as Mason jazz studies student Alan Folgelson on guitar.
The concert will end with "My Ideal," by Richard Whiting, Newell Chase, and Leo Robin, arranged by Schneider.
"I encourage people to come listen to Maria's music and open their hearts and let it creep into their souls," Carroll said. "Her music is culture."
Schneider was originally slated to perform and be in residence at the Center for the Arts in the spring of 2020, but the pandemic forced her participation to be cancelled, though she did participate in a virtual event as part of Mason Arts at Home.
Thankfully, two years later, the noted composer is able to return in person. While in residence, Schneider will also host an open rehearsal and Q&A session for Mason Jazz students on April 15 at 3 pm
It was Rick Davis, Dean of the College of Visual and Performing Arts, who was listening to Schneider's piece, "Walking by Flashlight" on his way to work one morning, and that planted a seed in his mind and heart about his music, and he worked to bring her to George Mason.
"Maria's music is just amazing and totally original," Carroll said. "It's beyond categories. It just has that ability to touch the inner-most soul, and she does that in a variety of styles."
From her very first recording, "Evanescence" in 1994, Schneider has developed a personal way of writing for her 18-member collective made up of many of the finest musicians in jazz today.
A strong advocate for musicians' copyright ownership, Schneider's compositions are considered among the best of the past few decades. Over her career, she has won ASCAP's esteemed Concert Music Award, was named an NEA Jazz Master (considered the nation's highest honor in jazz) and was elected into the 2020 American Academy of Arts and Sciences.
Her latest double-album, "Data Lords," released in 2020, was a Pulitzer Prize finalist, won two Grammy's and was named Jazz Album of the Year by the Jazz Journalists Association.
"What I love about her is that she crosses so many musical genres and you cannot categorize her," Carroll said. "It's just so uniquely original."
.